On Saturday, October 19, 2013, from 10:00 a.m.–4:00 p.m., explore more than a dozen yards, two municipal office landscapes, and last year's tour favorite, Manzo Elementary, at your own pace.
Homeowners and site hosts will be on hand to guide you through the features. Check out rain gardens, cisterns, passive solar systems, compost toilets, abundant food gardens, wildlife habitat and more!  And glean knowledge and inspiration for your own projects.
All sites featured on the tour have completed projects with WMG's Tucson Green Living Co-op, and ticket sales will support the Co-op's educational events. Tickets are $15—or $10 for bicycle riders, public transportation users, and those who carpool. Children under 14 can come along for free.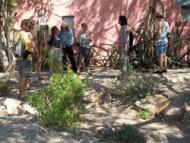 Advance sign-up is required for the self-guided tour to receive a brochure including maps, suggested routes, and brief descriptions of the features at each property